Equine Program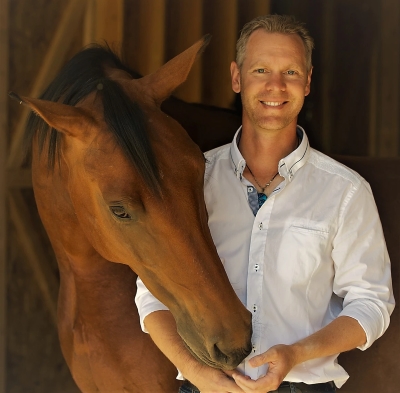 Our Equine Program at New Beginning Ranch is proud to partner with Mastery Horsemanship of Corvallis, Montana. This Program will provide our clients with the finest in equine therapy.

Led by master horseman Don Jessop, participants will experience the joy of being around horses, from the most basic horsemanship encounters with safe horses to more advanced horse training and riding – even dealing with difficult or abused horses at times.
As an authority in animal behavior, Jessop often travels the country helping people with their horses while improving upon their leadership skills. His natural, motivational attitude has inspired many people to achieve more in their studies and feel more confident – and has earned him the nickname "The Breakthrough Guy."

Jessop studied behavioral science with several leaders in the field, including Pat and Linda Parelli, the late horse master Ray Hunt, famed dog whisperer Cesar Millan, world-class dolphin trainer Lynn Eisenhart, peak performance coach Tony Robbins, and "Secrets of the Millionaire Mind" author T. Harv Eker. Now, Jessop is capable of assisting his students as they work through any problem or work toward any dream while mastering their relationships with people and horses. His teaching and horsemanship are drama-free, and he shares information with purpose and humor.

In addition to being a clinician, educator, coach and leader in the horse industry, Jessop also is the author of several books. Primarily, his book "Leadership and Horses" outlines what master trainers and leaders in any industry do to get instant rapport and respect with their audience and followers, allowing for smooth transitions to evident progress. All the principles Jessop teaches naturally cross over into normal life situations, even without horses.

Jessop, a Montana native, also works in the field of self-improvement as a speaker, author and coach.

To learn more about Mastery Horsemanship and Don Jessop,click here

---
Many people have asked "What happens in equine therapy? I've heard of it, but I don't get it".
The Value of Equine Therapy: The Art of Connection

At New Beginning Ranch, the Equine Therapy program has proven to be extremely valuable to our men – and very popular. Our clients work with horses at least once a week.

Some of the men take to riding quickly. They are then able to ride with an instructor in a larger arena and, if appropriate, on one of the many trails in the gorgeous mountains surrounding the Bitterroot Valley.

It is virtually impossible to "hide our stuff" when working in close proximity with a horse. As prey animals, horses are incredibly sensitive to our emotional/relational selves. Horses mirror back to us issues that we need to look at for sustained recovery. Client experiences with horses magnify these issues that, unless changed, will inhibit their journey into recovery.

The experience of one of our former clients illustrates this point.

He was a very smart, young man, but he struggled to connect with others, which is a common issue among addict/alcoholics. This young man covered the pain of isolation with a brash sense of accomplishment and arrogance. His first experience with his horse in the round pen mirrored those issues.

He kept saying, "I've ridden before, I know what I'm doing," all the while ignoring offers of assistance. After numerous attempts to connect with his horse, she fearfully ran away from him. She kept moving away, refusing to let him get near her.

Finally, he stopped trying to approach her and just stood there. He started crying and said, "I don't know why this horse doesn't like me." When he was asked about his relationships with people, he said, "This is what always happens when I try to get close to people. They back away."

He was told, "You're very smart and sure of yourself, but that doesn't help you with connect with horses or people. When you began grooming her, you brushed her with only the bare minimum of effort and never spoke to her at any time. She picked up your impatience and lack of any attempt to connect with her and she responded with distrust and by moving away."

The lesson of the importance of connection was a major turning point for him on his recovery journey. His peers had been giving him similar feedback, but when a 1,200-pound horse backed away from him, he got it on a whole different level.

By the time he graduated, he and his horse were a great team, and he was very different with peers, asking for help, listening, helping others and stopping his constant correction of others.
---
We'd like to stay in touch.
Subscribe to our email list and we'll keep you up to date with resources, new program offerings, and events happening at New Beginning Ranch!