Tom Martin
Tom Martin ~ the Founder and Director of New Beginning Ranch, Corvallis, MT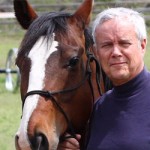 Tom has been in the field of addiction for 30 yrs, beginning with Marworth in PA. for 3 years and then the Betty Ford Center in Ranch Mirage, Ca. for 3 years. He and his wife, Ann, founded Martin's Counseling after Betty Ford Clinic, where they were their Preferred Providers of Continuing Care.
After developing their practice around Continuing Care groups, it quickly became apparent that relational struggles led to relapse...they both were each facilitating 8 groups per week, including early, middle and long term sobriety. Relational struggles were the constant "stuck point".

This led to a 3 year training period with Harville Hendrix to become Imago Therapists and another 2 yrs to become Imago Workshop Presenters...to address the relational struggles of their clients. Tom also got training later in EFT for couples.

They developed a 5 Day Relapse Prevention Workshop which they co-facilitated at the Betty Ford Center Professional Residency Program for 12 yrs as well as the 3 Day Couples Enrichment Program. After several years they were facilitating 2 Relapse Prevention Workshops and 1 Couples Enrichment Program workshops per month at the Betty Ford Center.

While facilitating a Relapse Prevention Workshop at the Clinic, it occurred to Tom that patients with meth and crack addictions were very often also struggling with sex addiction and; if that were not addressed, they could not stay chemically sober. He began studying with Dr Carnes, got his Associate Sex Addiction Therapist (ASAP) and began facilitating a men's sex addict group using the Starter Kit as the core material.

The meth addict who triggered his awareness of sex addiction co-occurring with chemical addiction joined this group. He had gone to five treatment centers for his meth addiction, but his sex addiction was never acknowledged or addressed. He never had more than 60 days sober. Today he is 9 years sober chemically and sexually and back running his company with his sons.
*************

In 2009 I was operated on at UCLA to remove a tumor from my throat. It turned out to be malignant. My right vocal cord had to be cut to remove the tumor. I lost my original voice and now speak in a hoarse whisper. I had a feed tube for 2 yrs while I learned how to speak and swallow food and liquids again without aspirating, so I could remove the feed tube and enjoy a better quality of life....food and coffee!
Today I can eat anything and drink liquids, even though the local speech therapist and ENT doctor have both said "anatomically, you should not be able to do either!!"
I hope my Bio has inspired you to consider our Ranch and all the benefits we have to offer you.

---
Please add your email address to the form above to Subscribe to our New Beginning Ranch Newsletter

Home
› Bio about Tom Martin