Tom Martin
Tom Martin ~ the Founder and Owner of New Beginning Ranch, Corvallis, MT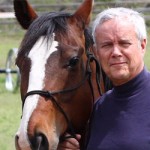 Over 30 years ago, Tom Martin left a coveted position in sales to pursue his true calling working with addicts. He began his private practice in Marworth, PA. for 3 years, then spent 3 years working as a therapist at the Betty Ford Center in Rancho Mirage, CA. He and his wife, Ann, then founded Martin's Counseling where they were preferred aftercare providers for the Betty Ford Center.
While facilitating a Relapse Prevention Workshop at Martin's Counseling, Tom realized that patients struggling with meth and crack addictions were also often struggling with sex addiction. If the sex addiction was not addressed, they could not stay chemically sober. This realization motivated Tom to study with Dr. Patrick Carnes, a pioneering, world-renowned expert in the diagnosis and treatment of sexual addiction. He quickly obtained his Associate Sex Addiction Therapist (ASAT) and began facilitating a men's sex addict group using Carnes's Starter Kit as the core material.

---
Tom Martin's excellent Health despite cancerous surgeries

In 2009, Tom underwent an operation at UCLA to remove a tumor from his throat. During the course of the procedure, doctors determined that the tumor was malignant. His right vocal cord was cut to remove the tumor. As a result, he lost his original voice and now speaks in a hoarse whisper. He had a feed tube for 2 years while he learned to speak and swallow foods and liquids again without aspirating, so he could remove the feed tube and enjoy a better quality of life.
Today, Tom can eat anything and drink liquids, even though the local speech therapist and ENT doctor have both told him, "anatomically, you should not be able to do either!"
Tom lives on-site with his dog, Molly.
---
We'd like to stay in touch.
Subscribe to our email list and we'll keep you up to date with resources, new program offerings, and events happening at New Beginning Ranch!