Our Team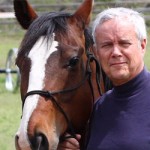 Tom Martin, Founder and Owner - While facilitating a Relapse Prevention Workshop at Martin's Counseling, Tom realized that patients struggling with meth and crack addictions were also often struggling with sex addiction. If the sex addiction was not addressed, they could not stay chemically sober. This realization motivated Tom to study with Dr. Patrick Carnes, a pioneering, world-renowned expert in the diagnosis and treatment of sexual addiction. He quickly obtained his Associate Sex Addiction Therapist (ASAT) and began facilitating a men's sex addict group using Carnes's Starter Kit as the core material. 
---
Kathi McConnell, Director of Equine Programs - Kathi McConnell, BSN, RN has an extensive history of training horses and riders for 25 years. Her ability to read the horses and reflect on how their behavior enables her to help the men discover relational behavior patterns that affect their relationships with family, peers, spouses, and partners. She has been with New Beginning Ranch since its founding. 
---
Ryan Knowles, House Manager - Ryan began working for sexual sobriety at age 15 after his parents found him engaging in dangerous sexual encounters online and watching many hours of porn per day. After years of ineffective inpatient and outpatient treatment, religious intervention, and therapy, he started losing hope. In early 2019, Ryan turned to New Beginning Ranch as a last resort, and he made significant progress in dealing with the two main issues driving his addiction: his relational deficiencies and his negative self-talk. After completing treatment, he joined the New Beginning Ranch staff as Property Manager, and was soon promoted to House Manager, where he carries a message of hope and recovery by coordinating many of the day-to-day activities of the ranch. He lives on the ranch with his dog, Judge.  
---
We'd like to stay in touch.
Subscribe to our email list and we'll keep you up to date with resources, new program offerings, and events happening at New Beginning Ranch!